When:
09/09/2022 @ 7:30 pm – 8:30 pm
2022-09-09T19:30:00+01:00
2022-09-09T20:30:00+01:00
Where:
Jacksons Lane
269a Archway Road
London
N65AA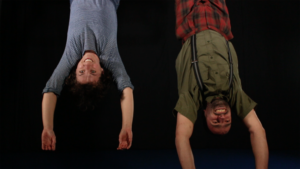 Daisy is doing her best to keep her chin up and her head down – but as the first anniversary of her mum's death approaches she begins to realise grief isn't something she can put aside indefinitely, and whether she's willing to admit it or not, things aren't fine.
From the silly to the sublime to the scary to the ridiculous, Daisy wrestles (sometimes literally) with her grief – Ian, a 6-foot invisible bald guy with a lot of luggage – eventually discovering that by letting him into her world she is able to reconnect with the memory of her mother.
Combining physical comedy with striking aerial acrobatics and an original, constantly moving aerial set, the debut live show from She Said Jump draws on theatre clown, circus and puppetry to tackle the themes of grief and bereavement with a light and playful touch.
Suitable for ages 8+