When:
23/03/2023 @ 7:30 pm – 8:30 pm
2023-03-23T19:30:00+00:00
2023-03-23T20:30:00+00:00
Where:
Jacksons Lane
269A Archway Road
N6 5AA
Contact:
Jacksons Lane
020 8340 5226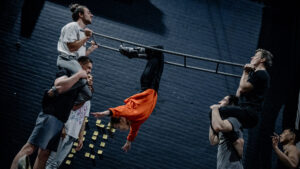 Brain Fools pride themselves on being an environmentally conscious, family-friendly circus show that you can enjoy as much as your kids do. They are also committed to highlighting issues surrounding homelessness and migration in London through their work — they want everyone to learn, and everyone to be part of the change they want to see in their communities.
The show is called Lucky Pigeons because it's about how hard it can be for people living on the street, but also because it's about how much hope there can be for them too. Through physical performance and social commentary, they will take you on a journey through different aspects of life as a person on the outskirts of society—from the challenges they face just trying to fit in and be accepted, all the way through finding love and happiness despite everything else going on around them.
Lucky Pigeons came to Jacksons Lane in October 2021 as a work-in-progress.