When:
01/10/2022 @ 7:30 pm – 8:30 pm
2022-10-01T19:30:00+01:00
2022-10-01T20:30:00+01:00
Where:
Jacksons Lane
269a Archway Road
London
N65AA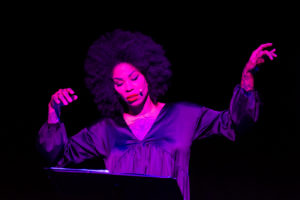 After moving from Germany to London over ten years ago to live and work in a more diverse community, renowned sword swallower, circus artist and dazzling burlesque artist Livia Kojo Alour learned that life-long feelings of self-hatred and otherness are part internalised racism and part survival techniques. With a successful career under her stage name MisSa, but tiring of playing someone else full-time, Black Sheep has been long in the making, serving as a candid autobiographical work and a euphoric reclamation of Livia's identity and ongoing fortitude.
Black Sheep is a story about a Black woman finding love and a testament of personal strength, developed through transcending the white gaze, overcoming institutional racism and leaning into radical vulnerability. Securing her place as a pivotal UK Queer Black voice while telling her story via a heady mix of physical theatre, spoken word, song and sword swallowing, Black Sheep is timely, unsettling and deeply personal.
Suitable for ages 14+