When:
11/09/2020 @ 1:00 pm – 5:00 pm
2020-09-11T13:00:00+01:00
2020-09-11T17:00:00+01:00
Where:
Highgate Gallery
11 South Grove
Highgate
London N6 6BS

Contact:
Rupert Craven
020 8340 3343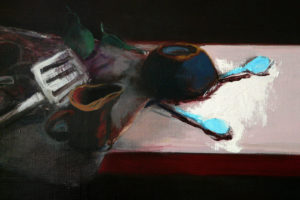 Image: detail from 'Spoons Looking Right' © Jason Sumray, oil on canvas. All rights reserved
What's in a Jug?  Paintings and etchings by Jason Sumray     11-24 September 2020
For his Highgate Gallery show 'What's in a Jug?' Jason Sumray brings together a series of oil paintings and etchings that are invented Still Lifes.  He takes ordinary objects and gives them new meanings;  grouping and juxtaposing them as if they are protagonists in table-top dramas.
The series began with an interest in images where the human presence was still strongly felt but figures were absent.  Drawers are half open, stools and chairs empty, plates, cutlery, jugs and serviettes left on the dinner table.  Jason's purpose was not to create a direct or distinguishable narrative, but rather to offer triggers that evoke potential meaning.  In time, he has become more concerned with a different kind of 'narrative' played out in his imaginary theatre world of objects;  where, in the tradition of Still Life, the things seem to exist autonomously regardless of human involvement, and what is important is their relationship to one another and to the empty space.
Several paintings in the exhibition deal with a preoccupation with the theme of 'Spilt Strawberries and Cream';  images that were begun as a response to Chardin's quietly evocative 'Basket of Wild Strawberries' (1761).  Jason felt he wanted to upset Chardin's delicate and finely balanced conical construction.
Jason's interest in the language of light and dark has been extended into the discipline of etching using solely black ink.  He loves the blackness of the medium and how it's possible to play with the way the forms emerge or disappear into the darkness, where edges are lost and then re-emerge.  He etches from his paintings;  they inform each other.
Jason Sumray lives and paints in North London.  He has exhibited in various galleries in London and elsewhere and has been shortlisted for a number of Open Competitions.  He won the Discerning Drawing Bursary in 2011 and was joint winner of the Marshwood Arts Award in 2017.  His series of paintings based on Samuel Beckett's 'Krapp's Last Tape' were exhibited as part of the inaugural International Beckett Festival, Enniskillen, NI, in 2012.  In 2016 his Fisherman paintings were shown in the Fishing Museum in Cromer.  Jason gained his Masters in Fine Art from the Sir John Cass School of Art and was awarded Distinction for his research on the nature of symbolism and metaphor in paintings.  In 2016 he was proud to curate the exhibition of paintings of his friend and mentor Ron Delavigne at the Highgate Gallery.
For further information please contact Jasonsumray@yahoo.co.uk www.jasonsumray.com