When:
24/04/2019 @ 7:40 pm – 9:10 pm
2019-04-24T19:40:00+01:00
2019-04-24T21:10:00+01:00
Where:
OmVed Gardens
Townsend Yard
Highgate
N6 5JF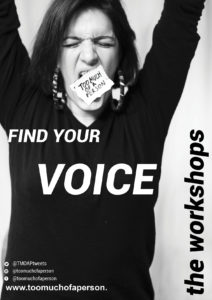 An interactive workshop which will give the participant one more tool to express themselves with; whether that's how to speak with nerves, how to speak up or using the voice as a instrument that will be truly listened to.
Too Much of a Person is an incredible platform for womxn and non-binary people to express themselves and we want to be even louder than we were taught to be. This workshop is one part of the process.
Why?
A stronger, more empowered voice. Knowledge how to build the voice even more and definitely a smile on their face and a true sense of joy.
What?
Breathing, posture and vocal exercises, making sounds, turning sounds into singing. Singing a song together as a group.Strengthen your speaking voice, free yourself physicially (chest/throat) and mentally (blockages)!
Who?
For her young age, Nina Rosenberger boasts a big bag of musical experience and expertise. She was playing piano at 6 and was directing her first choir at the age of 19. Since those skilled beginnings Nina has continued to be prolific in her involvement with vocal performance and leadership. She has been musical director of several bands, vocal coach for private students and choirs, keyboard teacher and one-on-one music production tutor for high school students. Nina graduated with first class honors in vocals from BIMM in 2015 since which time between working with students she has been an active performer with vocal bands such as "Soundslike". Acting as musical director/pianist and backing vocalist in several exciting projects, she also writes her own songs and performs them under the name "Anin Rose". Her performances include O2 Shepherds Bush and touring in Germany. As well as all this, Nina has been taking her musical gift into a different context by working in mental health settings with people with disabilities and mental health challenges. A few years after graduating, she is now also back as a Vocal tutor at BIMM London.
Register for tickets here.
This workshop is brought to you by Too Much of a Person as part of our week long celebration of the launch of our online archive of 100 womxn and non-binary being called 'too much' to dismiss or conform them to the idea of what a "woman" should be.
Womxn and non-binary people may miss out on certain "soft skills" growing up (speaking up or confidence) because of their gender or carry unhelpful interjects they have learnt from childhood (gendered shame or 'imposter syndrome'). We have some incredible professionals who have volunteered their time to bring you these free and accessible workshops for this week only. Don't miss out and lovingly arm yourself for the world!