When:
01/05/2019 @ 7:00 pm – 10:00 pm
2019-05-01T19:00:00+01:00
2019-05-01T22:00:00+01:00
Where:
OmVed Gardens
Townsend Yard
Highgate
N6 5JF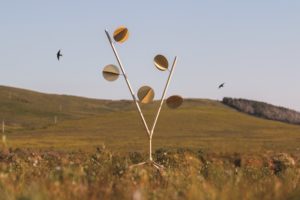 A celebration of Lileth and The Origins of the Creation of Woman.
An exhibition exploring the ecological implications of rewilding and the broader possibilities for rewilding human lives.
Curated by Anna Souter and Beatrice Searle.
Featuring Rodrigo Arteaga, Marcus Coates, Alannah Eileen, Julia Crabtree & William Evans, Michael Hautemulle, Hannah Imlach, Fiona Macdonald : Feral Practice, Beatrice Searle, Anna Skladmann and Amy Stephens.
Can we reverse human interference in the natural world? Can we create spaces where humans and non-humans can flourish through co-existence? Can we learn to recognise the complex networked consequences of our actions? Can we be ecological?
Symbiosis. Trophic cascades. Collaboration. Networks. Co-dependency. Rewilding.
Rewind/Rewild at OmVed Gardens explores the ecological implications of rewilding and the broader possibilities for rewilding human lives. Featuring artworks that foreground, analyse or challenge human relationships with plants, animals and landscapes, the exhibition also draws attention to human beings' networked role in local and global ecosystems. Through the lens of the rewilding movement, Rewind/Rewild considers the need for humans themselves to re-engage with the natural world and discover a wilder way of living within the constraints of human society and consideration for others.
The glasshouses at OmVed Gardens offer an alternative model for viewing art: the trees surrounding the building can be seen all around, a moving and living reminder of the real-world implications both of art and of ecological issues. This "perforated" space collapses binary distinctions between indoors and outdoors, the urban and the rural, indicating that all environments are potential sites for encounters with wild flora and fauna.
Elements of the natural world are relocated into the space to create surprising encounters. Sound and moving image are interwoven with the birdsong and rustling branches that surround the space, pondweed settles into a new habitat, agar responds to passing bodies and bacteria. Agency is shared across species, a complex entwining of intentions and instincts.
With contributions from artists working across a variety of media – from sculpture and installation to video and photography – Rewind/Rewild takes an ecological curatorial approach, suggesting interconnections both within and beyond the gallery space and hinting at a broader ecosystem of environmentally implicated artistic making.
Collaboratively curated by writer Anna Souter and artist Beatrice Searle and produced in association with OmVed Gardens, Rewind/Rewild also features a rewilding forum and a complementary programme of events intended to open debate around the issues of human re-involvement in natural processes, and the creative and practical ways in which this might be achieved.
Rewilding, n. A progressive approach to conservation, through the act of allowing natural processes to resume in an area, through practices such as the removal of dams, ditches or commercially bred grazing animals, the reintroduction of keystone species, and the cessation of managed conservation programmes that privilege particular species.