When:
10/03/2018 @ 11:00 am – 4:00 pm
2018-03-10T11:00:00+00:00
2018-03-10T16:00:00+00:00
Where:
Highgate Gallery
Institution Cottage
11 South Grove, Highgate, London N6 6BS
UK

Contact:
Rupert Craven
020 8340 3343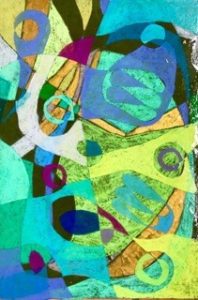 Julia Noble: "It's just a kind of friendly relationship….."
Materiality, process/rules and colour are the three aspects that define Julia Noble's work.  As an artist it is important to her that she engages the viewer's senses, creating an aesthetic experience through the physical components of her paintings, which draw upon her experiences and desires.
Julia is drawn to art works where the puzzle for her is to ascertain how they were made, where things are not as they seem, trying to establish the processes that have been employed.
Her practice has been founded on two quotes that resonated with her in relation to the use of chance by abstract painters.  Robert Rauschenberg said that "And even though chance deals with the unexpected and unplanned it still has to be organized before it can exist…" and that he "used the fact that wet paint would run, and lots of other things…it's just a kind of friendly relationship with your materials".  Robert Morris refers to the "tendencies inherent in a materials/process interaction." Rauschenberg's words inspired the title of Julia's exhibition.  Her practice involves an investigation into her relationship with materials, the tendencies they possess and how those tendencies can be pushed together with the impact of colour.
Julia explains, "I seek to challenge the viewer with my complex system of production which results in kaleidoscopic rhythmic images. The starting point for many of my creations stems from elements of earlier works transforming them into something new using repeating forms, processes, and colour to provide different perspectives. Incorporating stitch as a drawing method the marks I make are relatively unconventional but also serve to disrupt the form and texture of the surface.  Furthermore, stitching is synonymous with bringing together, a cohesive force unifying the separate elements of the work.
"My creations are instinctive, how they end up is determined by the processes and the colours that are used.  I want them to be unashamedly joyful and uplifting full of curiosity and optimism."
Highgate Gallery open Tue-Fri 1-5; Sat 11-4; Sun 11-5.   Closed Mon.
Exhibition continues until 22 March.