When:
22/09/2023 @ 11:00 am – 5:00 pm
2023-09-22T11:00:00+01:00
2023-09-22T17:00:00+01:00
Where:
Highgate Gallery
Highgate Literary and Scientific Institution
11 South Grove
London N6 6BS

Contact:
Lisa Bjorkstrand
02083403343
Whitman is an artist/printmaker who frequently draws inspiration from myths, literature and story-telling. Her                  engagement in a range of media and her understanding of the historical context of particular material processes inform her fascination with the idea of transformation. At Highgate Gallery she will be showing works created inresponse to: the Greek myth Demeter and Persephone; Emily Bront's novel Wuthering Heights; and, the subject of Transformation itself, works which Whitman refers to collectively as 'Alchemical Allegories'. The thread binding her content together is the notion of a domain existing within, and beyond – the material world.
Gallery times: Wednesdays to Fridays 13:00-17:00,
Saturdays 11:00-16:00, Sundays 11:00-17:00,
Mondays & Tuesdays Closed
Private View: Friday 15 September 2023 18:00-20:30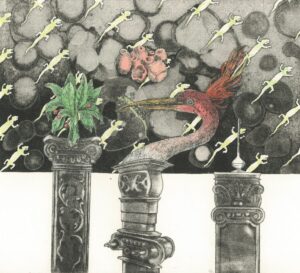 Highgate Gallery Rosalind Whitman Transformations – Lizards Bite