When:
20/02/2020 @ 1:00 pm – 5:00 pm
2020-02-20T13:00:00+00:00
2020-02-20T17:00:00+00:00
Where:
Highgate Gallery
11 South Grove
London N6 6BS
Contact:
Rupert Craven
020 8340 3343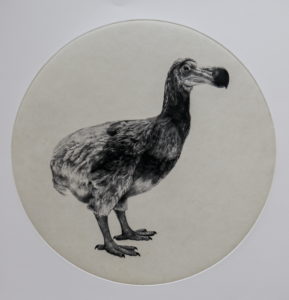 Dutch Dodo  photopolymer print with chine collé, 61.5×56.5cm Tammy Mackay 2019. All rights reserved
Printmakers Council: TIME
The Printmakers Council invites you to find the time to join them in exploring the concept of Time in both traditional and innovative forms printmaking. Determined historically by the rising and the setting of the sun, our modern lifestyles push against the natural rhythms of rest and labour and our now 24-hour economy urges consumer purchasing of smart watches.  It's not just telling the time but scheduling what to do with it.  Meanwhile astrophysical research challenges our understanding of time itself.  The Printmakers explore our complex relationship with time, a fascinating and engrossing subject for us all.
All work is for sale.
Events: 
15 minute talks Sunday 9th February 2-3pm.
Create a print in a 10 minutes.  Workshop on Sunday 16th February 2-4pm.
Founded in 1965 by artists including Julian Trevelyan, Michael Rothenstein, Anthony Gross and Agatha Sorel, the Printmakers Council promotes the place of printmaking in the visual arts by:
Providing information on prints and printmaking to its 250 members and the public
• Encouraging co-operation and exchanges between artists, galleries and printmaking studios and associations
• Holding regular exhibitions of original prints in the UK and abroad
 Website: https://printmakerscouncil.com
Exhibition continues until 20 February.
Highgate Gallery open Tuesday-Friday 1-5pm, Saturday 11am-4pm, Sunday 11am-5pm; closed Mondays