When:
12/06/2019 @ 1:00 pm – 5:00 pm
2019-06-12T13:00:00+01:00
2019-06-12T17:00:00+01:00
Where:
Highgate Gallery
11 South Grove
London N6 6BS
UK

Contact:
Rupert Craven
020 8340 3343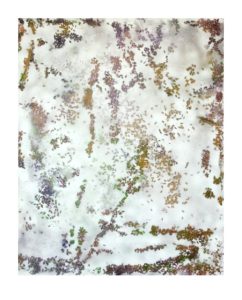 Peace and Resolution Solo exhibition by Katy Sayers Green
31 May – 13 June 2019
Highgate Gallery is delighted to host Katy Sayers Green's 'Peace and Resolution', an exhibition of large mixed media paintings, alongside small scale relief sculpture.  This work focuses on intractable conflict; from the personal to the political, using the conflict in the Middle East as the central focus and inspiration.
The emphasis is to explore through visual means routes to peace and resolution and hope for the future.  Whilst focusing on this particular conflict, Katy also hopes that the resonances in the artwork are universal.
This body of work has been produced as a result of a two month sojourn in Israel in 2018: a summer programme at Hebrew University looking at the complexities of the region and possible paths to peace, followed by a ceramic art residency at the inspirational Benyamini Contemporary Ceramics Centre in Tel Aviv.  Katy is a painter with a strong interest in layers and 3-dimensional form; working with ceramics for the first time opened up wonderful new possibilities.
The visual language came about during the Tel Aviv Art Residency.  Seeds and fruit and other natural produce of the region started appearing in her ceramic work.  Seeds offer a promise of hope, of renewal, of something shared between the two peoples.  This organic source material is very connected to the land and therefore to the identities of all those involved.  Katy expresses visually the connection of both peoples to the land in a visceral way.  This work could be described as a form of figurative abstraction.
Katy pressed porcelain into the seeds and fruit to create small-scale impressions, often fragile and transparent – like the seeds of hope themselves.  On her return to the UK, she started thinking of the converse of this situation, by pressing and laying the seeds and fruit on to the canvas to make a reverse impression.
The narratives of the two peoples are entirely different and by approaching the project from the other side, in a literal sense, she replicates what is happening in this conflict in visual form.  Perhaps, at the interface between these two sides is where peace and resolution can be found.
Katy has recently started an Art Instagram  @katy_sayers_green where she is documenting her art practice in the run up to this exhibition.
There will be four accompanying events to this exhibition which are open to the public (see below).
The exhibition is supported by StandWithUs UK – https://standwithus.co.uk – an Israel education charity.  The art collection is inspired by a love for Israel and a wish to creatively visualise what a just society for all its inhabitants might look like in the future.

 Events
Friday 31 May, 6-8pm – Private View of Exhibition.
Sunday 2 June, 11.30am.  Artist tour of exhibition.  (Please gather at 11.20am.) The tour will last approximately one hour and light refreshments will be available.  Katy will talk about her time in Israel and how it relates to her work.
Thursday 6 June, 8pm (doors open 7.30pm).  £10 on the door. Highgate Film Society: "Frantz", 2017.  The film explores healing and forgiveness across borders.  Writer-director François Ozon thoughtfully probes the aftermath of World War I through memories and relationships of loved ones left behind.
Tuesday 11 June, 8pm (doors open at 7.30pm).  £5 on the door.  Lecture: Sana Knaneh, Development Director for UK Friends of the Bereaved Families Forum, is a Palestinian who grew up in the Galilee region of Israel.  She will discuss the reconciliation and peace building work of this organisation in the region.  Light refreshments will be available.