When:
12/04/2014 @ 10:00 am – 2:30 pm
2014-04-12T10:00:00+00:00
2014-04-12T14:30:00+00:00
Where:
St Michael's School
North Hill
London N6
UK

Contact:
Highgate Society (Jackie Jones)
077908 70712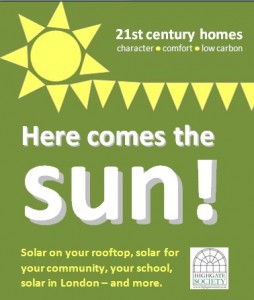 A new event from the Highgate Society's "21st Century Homes: character – comfort – low carbon" initiative.
HAVE YOU EVER WONDERED about putting solar panels on your roof to generate electricity or produce hot water?  Are you interested in how it can work on schools, community buildings or businesses?   Have you been thinking it might be interesting to put some funds into a community solar project?   Perhaps you are just interested to see how it works?
Then come to our Saturday event at St Michael's school, Highgate – meet national and local experts, including installers, and speak with neighbours about their solar roofs!
Come and find out about
how a solar roof could work for you
current government incentives
what it costs
solar options for conservation areas
solar PV for electricity
solar thermal for hot water (and maybe even heating)
solar on schools and community buildings
what about investing in a community solar scheme?
planning guidelines and building regulations
finding professional advice
the solar revolution!
TALKS (correct as at 2 April – times to follow soon)
Solar in the UK – towards a Million Solar Roofs (Leonie Greene of the Solar Trade Association)
Why solar? Why now? (Dermot Barnes of Ecodomus)
Solar for hot water – and heating (Dominic Skeaping, London Solar)
Nuts and bolts of a solar PV roof (Jon Cowdrill, Joju Solar)
How communities are building solar in London and beyond (Agamemnon Otero, Repowering London)
Financing solar on your roof (Cara Jenkinson, Muswell Hill Sustainability Group)
Solar and the new Renewable Heat Incentive (Leonie Greene of the Solar Trade Association)
Haringey: the sunshine borough (Haringey's solar programme) (Ben Brown, London Borough of Haringey)
EXHIBITORS (correct as at 2 April)
SOLAR INSTALLERS
Ecodomus installs renewable technologies for commercial, community and domestic projects (solar PV and solar thermal) see website
Evo Energy  "design, supply and install solar photovoltaic (PV) and solar thermal systems for homes and business across the UK. Evo Energy  are Renewable Energy Association Installer of the Year". see website
London Solar is a "small company of experienced installers based in Hackney. Specialising in high efficiency heating systems, installing boilers, heating controls, hot water systems and solar thermal systems. Giving clear advice and high quality work, to lower the financial and environmental costs of using heat."  see website
Joju Solar " solar installations for home owners, businesses, public authorities and community organizations."(solar PV and solar thermal) see website
NATIONAL ORGANIZATIONS
10:10 solar schools. "Schools are a good thing. Solar power is a good thing. We think 10:10 is a pretty darn good thing. What if we could combine all three?" see website
Solar Trade Association 'Million Solar Roofs' The STA works in conjunction with its members to achieve the right regulatory framework and incentives for solar to deliver an increasing contribution to the UK's electricity and heating needs see website
LOCAL GROUPS AND LOCAL AUTHORITIES
Green Camden "is here to help you reduce your environmental impact. Our tips and advice can help you save money, reduce waste, and get involved in your local community." see website
Highgate Society "making Highgate a better place in which to live and work, now and in the future. Ensuring that any changes made in the environment enhance the amenity of the area and encouraging sound planning and improving public transport. see website
Muswell Hill Sustainability Group we're a fast-growing group of local residents concerned about climate change and sustainability. Our aim is to reduce carbon emissions and waste in the Muswell Hill and surrounding areas, encouraging residents, local businesses and community groups to live more sustainably. see website
St Michael's School (solar PV system) "At St Michael?s we aim to help all our children meet their potential through a love of learning". See website for pictures of solar system
PLEASE NOTE: Inclusion of any companies of organisations in this list does not constitute a recommendation by the Highgate Society or its members!