When:
02/10/2022 @ 2:00 pm – 4:00 pm
2022-10-02T14:00:00+01:00
2022-10-02T16:00:00+01:00
Where:
LUX
Waterlow Park Centre
Dartmouth Park Hill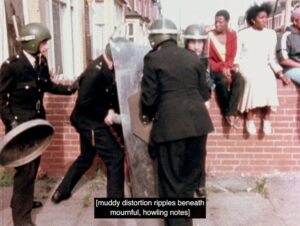 Screening and discussion to launch the new LUX publication slow emergency siren, ongoing: Accessing Handsworth Songs which documents a project to make Black Audio Film Collective's seminal 1986 film Handsworth Songs more, and differently, accessible. Edited by Sarah Hayden, it presents a newly commissioned annotated audio description script from Elaine Lillian Joseph and new creative captions commissioned from the Care-fuffle Working Group alongside new essays by Clive Nwonka and Sarah Hayden. The publication was produced as part of a research project called Voices in the Gallery, with financial support from the AHRC.
slow emergency siren, ongoing has been produced in website and large-print book formats, both of which were developed with the support and advice of the UK Association for Accessible Formats. Design is by Daly & Lyon and web development is by An Endless Supply. The website publication is now available at slowemergencysiren.org.uk
Screening of Handsworth Songs (1986) with audio description and captions, followed by a live captioned discussion with Sarah Hayden, Elaine Lillian Joseph and Anita Wolska-Kaslow of the Care-fuffle Working Group. This is an in person event at LUX, Waterlow Park Centre.
The book will be available to purchase at the event with all proceeds from sales going directly to making more works in the LUX collection accessible. The book can also be purchased online from the LUX Shop here
An audio documentary about slow emergency siren, ongoing is being made by Hannah Kemp-Welch. This will be launched on the LUX website later this year.
[image description: A still from Handsworth Songs in which four white police officers with helmets and shields are shoving someone down while three black people sitting and watching in the background. The caption reads, muddy distortion ripples beneath mournful, howling notes.]