When:
10/11/2019 @ 11:00 am – 5:00 pm
2019-11-10T11:00:00+00:00
2019-11-10T17:00:00+00:00
Where:
Highgate Gallery
11 South Grove
London N6 6BS
UK

Contact:
Rupert Craven
020 8340 3343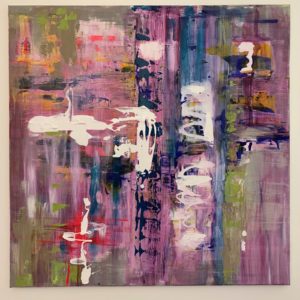 Image: Abstract Painting  oil on canvas  90x90cm  David Taylor 2019.  All rights reserved
In this group show, Samantha Laub, Jason Sweidan and David Taylor present vibrant abstract paintings, influenced by abstract expressionism.  The paintings demonstrate distinctive emotional responses to the natural.
Samantha, Jason and David have been developing a set of unique styles in close interaction with each other – all with strong colour use.  The theme of present and remembered emotion displays their distinctive styles whilst drawing on a common theme.
Samantha's works begin as spontaneous outpouring of energy and emotion that she then develops and refines into finished pieces.  Her paintings are visceral, full of movement and texture.
Jason applies oil on canvases to construct and deconstruct images that reflect elements of nature.  His paintings are predominantly fluid, physical and textured using gravity to allow the paint to evolve.
David's work reflects memories of the natural in which strong colour use is combined with loose natural references that evoke a sense of fluidity, water or landscape.
All three artists are local to the exhibition and originally met at the Hampstead School of Art (HSOA).
Samantha is Creative Director of Gorgeous Brewery based in Highgate and also works in advertising, as well as being a painter.  She has exhibited at a number of HSOA exhibitions and was also shortlisted in the National Open Art exhibition in 2016.
Jason works in investor relations as well as being an artist.  He recently held his first solo art exhibition and has exhibited at several HSOA summer exhibitions and the Green and Stone summer exhibition 2019.  His work is held in private collections in the UK, USA, Spain and Bermuda.
David is a Fellow of the Royal Society of Arts and Professor Emeritus at the University of Brighton.  He is a leading academic social theorist and writer as well as a painter and sociologist of art.
Exhibition continues until 21 November