When:
18/02/2023 @ 11:00 am – 5:00 pm
2023-02-18T11:00:00+00:00
2023-02-18T17:00:00+00:00
Where:
Highgate Gallery
HLSI
11 South Grove
London N6 6BS

Contact:
Lisa Bjorkstrand
02083403343
Interdisciplinary artist Elspeth Hamilton, who has also worked as an architect, glass artist, teacher, writer and environmental educator, presents an exhibition which spans over 40 years of work and focuses thematically on seascapes, riverscapes and portraits.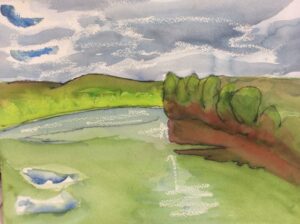 Her expressive paintings explore the language between figuration and abstraction, and are preoccupied with the tension Hamilton sees between 'rough and smooth', both in terms of the forces of nature, and our experience of life.  It was a preoccupation she first realised on the Pembrokeshire coast where she was fascinated by the stillness of a rock pool juxtaposed with the wild sea. On the coastline in Dominica, she depicts the effects of erosion on the dramatic cliffs. In Spain, she captures an approaching storm and in Cornwall the elemental drama where sea meets rugged cliffs.
Wednesdays to Fridays 13:00-17:00, Saturdays 11:00-16:00Sundays 11:00-17:00, Mondays & Tuesdays Closed Private View: Friday 10 February 2023 18:00-20:30