When:
08/07/2017 @ 11:00 am – 4:00 pm
2017-07-08T11:00:00+01:00
2017-07-08T16:00:00+01:00
Where:
Highgate Gallery
Institution Cottage
11 South Grove, Highgate, London N6 6BS
UK

Contact:
Rupert Craven
020 8340 3343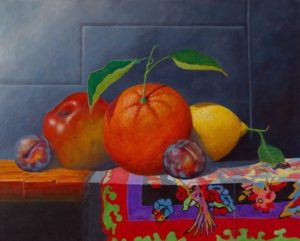 Image: © Cay Schröder, 2016. All Rights Reserved
Bodegón y Jazz: watercolour and oil paintings by Cay Schröder
Cay Schröder lives with his wife in Camden, London but works mainly from his studio in the Canary Islands where the quality of light gives a directness to his work both in watercolour and in oils.
Though by definition he is a representational artist who enjoys using the skills and techniques of the Old Masters, he is still very much a modern painter of today. When studying the immortals da Vinci, Rembrandt, van Dyck and Velasquez, Cay wants to know how their creative processes worked, their colour palettes and methods.
Cay began his love of watercolour when he was studying Interior Design at Chelsea. He loves the unpredictability of the medium and the challenge to control the paint for this very English art form. He is inspired by the work of, amongst others, John Sell Cotman and William Russell Flint and, more recently, Rowland Hilder and David Curtis. His early career in graphics, working in black and white ink and later gouache, helps with the technique of mixing pigments to work in oils.
Cay's absolute favourite artist is John Singer Sargent who dabbled with Impressionism – but never joined the group. Sargent's sticking to his own way of seeing and then painting gave Cay his own methodology of looking carefully until he can "see" his subject, only then starting to draw or paint. He is currently delighted and inspired by the photorealists Richard Estes and Ralph Goings.
"Art can certainly shock, challenge or even disturb but it can also be an antidote to stress, creating a calm and peaceful atmosphere to enjoy. Visitors to my exhibition," says Cay, "will find colourful still life, portraits of some of my musical heroes and maybe recognize some much loved landscapes. I hope to awaken a happy 'feel good' response of recognition and pleasure."
Exhibition continues until 20 July.    Highgate Gallery open Tue-Fri 1-5; Sat 11-4; Sun 11-5. Closed Mon.